Phoenix Recycling Inc.
Scrap Plastic Recycling and Toll Grinding:
Domestic Sales - Export Sales - Purchasing - Toll Services - Your Recycling
Contact Us - Learn about Plastics - F.A.Q. - Our Mission - My Phoenix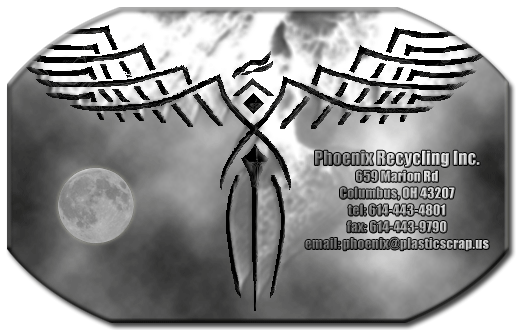 From engineering plastics to commodity plastics, Phoenix Recycling serves all your plastic needs.
---
Plastics we buy, sell and toll grind:
ABS - (Poly)Acrylonitrile Butadiene Styrene
ASA - (Poly)Acrylic Styrene Acrylonitrile
BOPP - Biaxially Oriented Polypropylene (Film)
BR - (Poly)Butadiene Rubber
CA - Cellulose Acetate
CAB - Cellulose Acetate Butyrate
CAP - Cellulose Acetate Propionate
EPDM - Ethylene Propylene Diene Monomer
EPS - Expandable Polystyrene
EVA - (Poly)EthyleneVinyl Acetate Copolymer
EVOH - (Poly)Ethylene Vinyl Alcohol
GPPS - General Purpose Polystyrene
HDPE - High Density Polyethylene
HIPS - High Impact Polystyrene
LCP - Liquid Crystal Polymer
LDPE - Low Density Polyethylene
LLDPE - Linear Low Density Polyethylene
MDPE - Medium Density Polyethylene
NBR - Nitrile Butadiene Rubber
PA - Polyamide (Nylon)
PBT - Polybutylene Terephthalate
PC - Polycarbonate
PEEK - Polyetheretherketone
PEI - Polyetherimide

PES - Polyethersulfone
PET - Polyethylene Terephthalate
PETG - polyester with Glycol Modifier
PEX - Cross-linked Polyethylene
PMMA - Polymethylmethacrylate
POM - Polyoxymethylene (Acetal)
PP - Polypropylene
PPA - Polyphthalamide
PPE - Polyphenylene Ether
PPO - Polyphenylene Oxide
PPS - Polyphenylene Sulfide
PSU - Polysulfone
PTFE - Polytetrafluoroethylene
PVB - Polyvinyl Butyral
PVC - Polyvinyl Chloride
PVDC - Polyvinylidene Chloride
SAN - (Poly)Styrene Acrylonitrile
SiO2 - Silicone
SMA - (Poly)Styrene Maleic Anhydride
TPE - Thermoplastic Elastomer
TPO - Thermoplastic Polyolefin
TPU - Thermoplastic Polyurethene
UHMW - Ultra High Molecular Weight Polyethylene
XLPE - Cross-linked Polyethylene

---
Phoenix Recycling is a midwest plastic recycling company that has been servicing and supplying the plastic scrap industry for 35 years. We are a plastic scrap exporter as well as a domestic plastic recycler, and sell to China, Hong Kong and eastern Asia as well as domestically in the United States. We are a recycler of polystyrene scrap, polycarbonate scrap, acrylic scrap, nylon scrap, polypropylene scrap, polyethylene scrap, polyester scrap, HDPE scrap, LDPE scrap, HIPS scrap, ABS scrap, GPPS scrap, PC scrap, PA6 scrap, PMMA scrap, and PET scrap. Our services include toll grinding, metal separation, warehousing, packaging, and baling. Phoenix provides several types of polymers including ABS regrind, HIPS regrind, Polystyrene regrind, PMMA regrind, acrylic regrind, PC regrind, polycarbonate regrind, PA regrind. We also buy and sell nylon regrind, HDPE regrind, LDPE regrind, polyethylene regrind, PP regrind, polypropylene regrind, PET regrind, PBT regrind, and polyester regrind.
---
Web Page designed by Bryan Gebhart
Copyright © 2002-2017 [Phoenix Recycling Inc].
All rights reserved.