Phoenix Recycling Inc.
Scrap Plastic Recycling and Toll Grinding:
Plastic Scrap Recycling - ABS, Polycarbonate PC, Polystyrene HIPS and GPPS, Polypropylene PP, Polyethylene HDPE and LDPE, Acrylic PMMA, Nylon PA6, Polyester PET and various other plastics.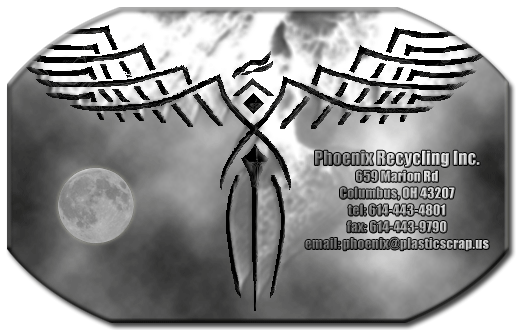 Materials Available - Materials Wanted - Services
Your Recycling - Contact Us - Learn about Plastics
F.A.Q. - Our Mission - My Phoenix

From Engineering Resins to Commodity Resins,
Phoenix Recycling serves all your plastic needs.
---
Phoenix Recycling is a midwest plastic recycling company that has been servicing and supplying the plastic
scrap industry for 30 years. We are a plastic scrap exporter as well as a domestic plastic recycler, and sell to
China, Hong Kong and eastern Asia as well as domestically in the United States. We are a recycler of polystyrene
scrap, polycarbonate scrap, acrylic scrap, nylon scrap, polypropylene scrap, polyethylene scrap, polyester scrap,
HDPE scrap, LDPE scrap, HIPS scrap, ABS scrap, GPPS scrap, PC scrap, PA6 scrap, PMMA scrap, and PET scrap.
Our services include toll grinding, metal separation, warehousing, packaging, and baling. Phoenix provides
several types of polymers including ABS regrind, HIPS regrind, Polystyrene regrind, PMMA regrind, acrylic
regrind, PC regrind, polycarbonate regrind, PA regrind. We also buy and sell nylon regrind, HDPE regrind,
LDPE regrind, polyethylene regrind, PP regrind, polypropylene regrind, PET regrind, PBT regrind, and
polyester regrind.
---
Web Page designed by Bryan Gebhart
Copyright © 2002-2009 [Phoenix Recycling Inc]. All rights reserved.


visitors